VOL. VIII, NÚM. 2, MARZO-ABRIL DE 2017
ISSN 0187-8336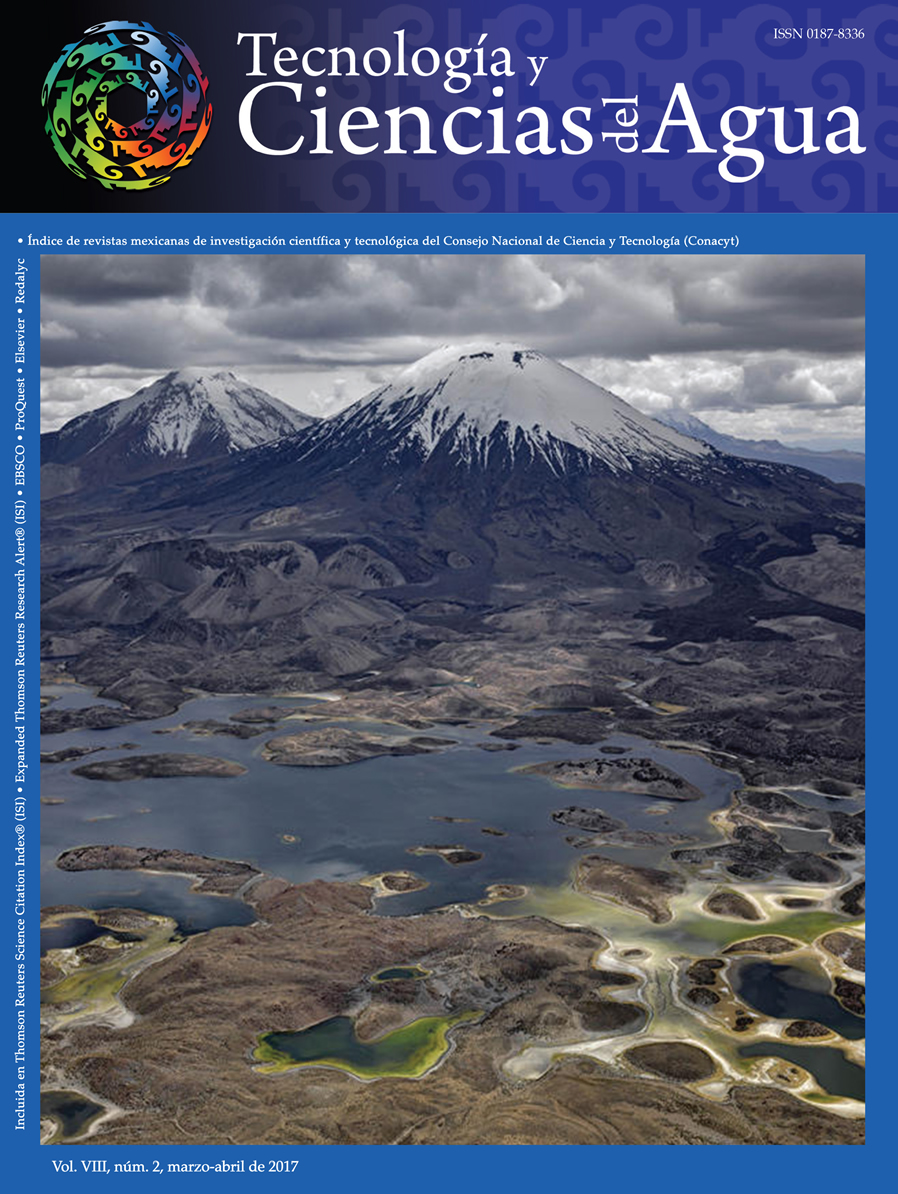 Portada: lagunas de Cotacotani, Andes, Chile. Localizadas a 4 495 metros de altura, las lagunas de Cotacotani se consideran una de los cuerpos de agua a mayor altitud en la Tierra. Son alimentadas por agua de deshielo que fluye de los glaciares del volcán Parinacota (6 348 metros de altura).
Foto: Bernhard Edmaier.
Tecnología y Ciencias del Agua está registrada en los siguientes índices y resúmenes (abstracts) nacionales e internacionales:
• Thomson Reuters Science Citation Index® (ISI)
• Expanded Thomson Reuters Research Alert® (ISI)
• Índice de revistas mexicanas de investigación científica y tecnológica del Consejo Nacional de Ciencia y Tecnología (Conacyt) (2013-2018)
• EBSCO (Fuente Académica Premier NISC; Geosystems, como Marine, Oceanographic and Freshwater Resources)
• ProQuest (Cambridge Scientific Abstracts)
• Elsevier (Fluid Abstracts: Process Engineering; Fluid Abstracts: Civil Engineering)
• CAB Abstracts, CAB International
• Latindex (Sistema Regional de Información en Línea para Revistas Científicas de América Latina, el Caribe, España y Portugal), Universidad Nacional Autónoma de México
• Periódica (Índice de Revistas Latinoamericanas en Ciencias), Universidad Nacional Autónoma de México
• Catálogo Hela (Hemeroteca Latinoamericana), Universidad Nacional Autónoma de México
• Actualidad Iberoamericana, CIT-III, Instituto Iberoamericano de Información en Ciencia y Tecnología
• Sistema de Información Científica Redalyc, Universidad Autónoma del Estado de México

Otras fuentes

También puede encontrarse su acervo en Google académico.
SJR SCImago Journal & Country Rank
ARTÍCULOS DEL NÚMERO ACTUAL
Relationships between floods and social fragmentation: A case study of Chiayi, Taiwan
Yung-Jaan Lee
Li-Pei Peng
Ting-Jay Lee
The social vulnerability approach has been recognized as one of the most important tools for exploring contexts and coping strategies in relation to contemporary disasters. However, social vulnerability is such a multi-faceted and complex construct that scholars from different fields have not reached consensus on how best to measure it, and discussions on this issue continue. Some scholars consider that this approach can manifest the role of human agency. However, given a lack of historical observations, interpreting the causes of disasters through event-based perspectives cannot easily reflect the institutional mechanism behind disaster events. Thus, this study applies a social fragmentation concept to represent the opposite of social integration and depicts the trend of social fragmentation based on historical data from 1983-2011 in the Chiayi County, Taiwan. Furthermore, this study overlays the trend of social fragmentation and the flood map at the township level using the GIS technique. Four types of social fragmentation are identified, namely "continuous high social fragmentation," "transformed social fragmentation," "fluctuating social fragmentation" and "continuous low social fragmentation". The study suggests that the social fragmentation approach can play a supplementary role in measuring the social vulnerability indicator.
Keywords: Floods, social fragmentation, social vulnerability, disaster, overlay analysis.
Leer más...
Effect of drip irrigation with saline water on he construction of shelterbelts for soil and groundwater protection in the hinterland of the Taklamakan Desert, China
Jinglong Fan
Yaping Wei
Xinwen Xu
Xinghu Yang
In order to understand the effect of drip irrigation with saline water in the desert hinterland on plant growth of shelterbelts and underground environment (vadose zone and groundwater), by developing water-saving irrigation technology to ensure the scientific utilization of water resources, four different irrigation cycle experiments (difference in irrigation period I: 12d; IV: 25d; II & III: 25d in the summer and their respective spring and autumn periods, which were the same: 15d and 20d, respectively) were carried out during the irrigation season in four different regions of well irrigation area. In this paper, a regular onsite investigation was adopted to observe soil, water, and salt. Single-factor analysis of variance and least significant difference (LSD) are used to analyze the data acquired by the survey method and for measuring plant growth, complemented with the comparison of groundwater level and chemical index before and after irrigation. The results showed that the reduction of annual irrigation volume from 420 mm to 201.6 mm had almost no effect on plant growth and could save more than 50% of the water compared with treatment I. Considering the impact on the height-growth of Tamarix, treatment II could be optimized, so that more than 30% of the water could be saved compared to treatment I. Three days after irrigation, the salt was leached through the soil body into the groundwater. The groundwater level in the shelterbelt area, total dissolved solids (TDS), and total hardness showed an upward trend. Six days after irrigation, the high salt concentration region was found at a depth of 0-30 cm.
Keywords: Drip irrigation with saline water, shelterbelts, vadose zone, groundwater, Taklamakan Desert.
Leer más...
Particle size distribution and settling velocity of sediments in water diverted from the Yellow River during border-strip irrigation
Jinshan Li
Liangjun Fei
Zhen Chen
Xiulu Sun
Diversion of river water for irrigation is an important factor in sustainable agricultural development in the Yellow River basin. This study examines patterns in the advance of sediment in irrigation water diverted from the Yellow River during border-strip irrigation. An irrigation experiment was carried out on a 1.8 m-wide strip and a 2.7 m-wide strip of a fruit field in order to observe the advance rate of irrigation water, the distribution of settled sediment, and the concentration and particle size distribution of sediment in the water flow. The settling velocity of sediment particles was then calculated using an empirical formula. The results show that the irrigation water gradually slowed as it advanced along the strip length, and the amounts of deposited particles decreased from the top ends of the strips to their bottom ends. The decrease was especially sharp on the section of each strip between 40 and 120 m from the water pipe outlet. Overall, the size of particles carried by the irrigation water fell within the range of 0.004 to 0.016 mm, with coarse and fine particles making up small proportions of the sediment. The concentration of coarse particles was higher at the top ends than at the bottom ends, while the concentration of fine particles was higher at the bottom ends than at the top ends. The water content in the soil at several locations varied significantly before and after irrigation, and the deposition of sediment was found to exert a great influence on the infiltration of irrigation water. The particle size distribution of the sediment deposited along the strips accords with the law of sedimentation in that coarse particles accumulated primarily at the top ends of the strips as a result of high settling velocity. Moreover, the results demonstrate that it is feasible to simplify the water flow over the field to open-channel flow when calculating settling velocity. However, the formula for calculating settling velocity needs further modification to take into account the influences of flume rate and the scouring action of irrigation water on the surface sediment deposited on the strips.
Keywords: Water diverted from the Yellow River, border strip irrigation, sediment, particle size distribution, settling velocity.
Leer más...