VOL. VIII, NÚM. 2, MARZO-ABRIL DE 2017
ISSN 0187-8336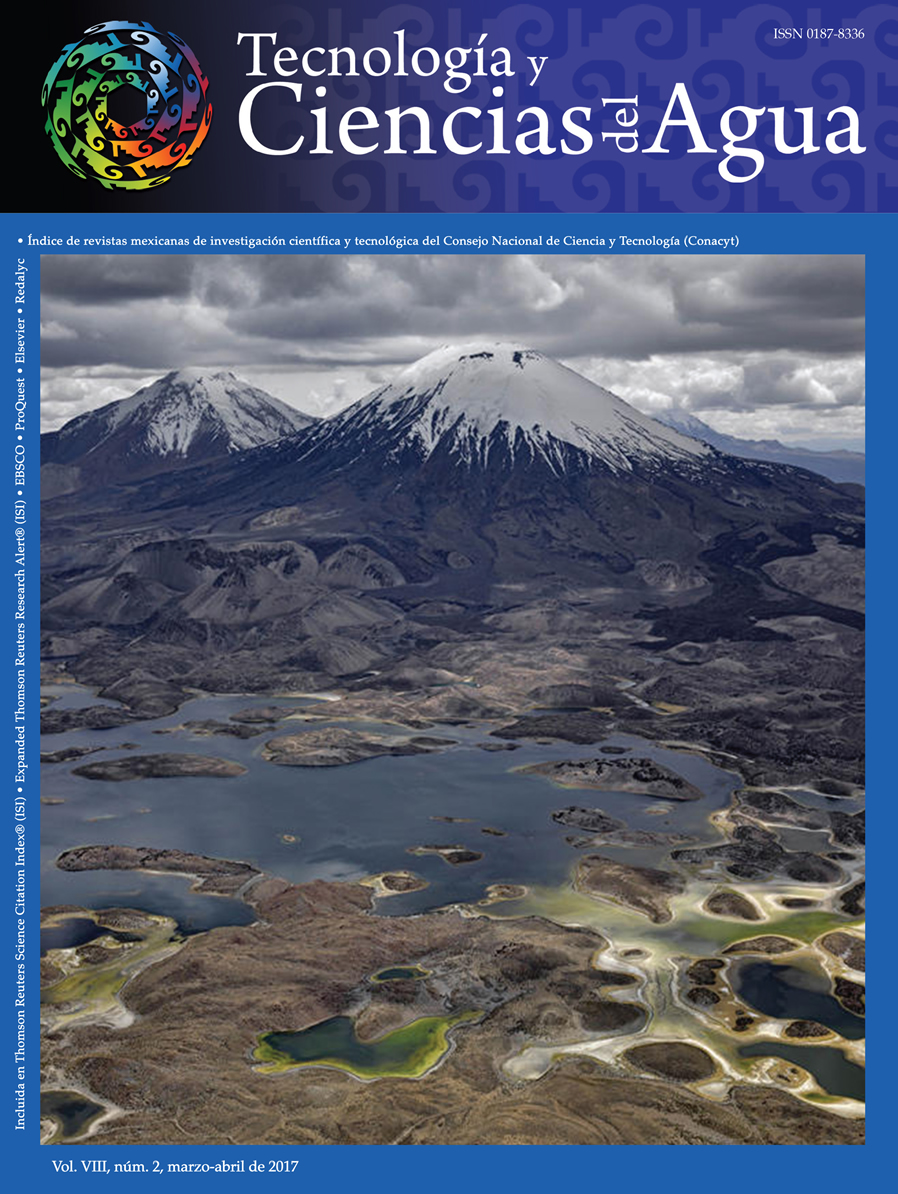 Portada: lagunas de Cotacotani, Andes, Chile. Localizadas a 4 495 metros de altura, las lagunas de Cotacotani se consideran una de los cuerpos de agua a mayor altitud en la Tierra. Son alimentadas por agua de deshielo que fluye de los glaciares del volcán Parinacota (6 348 metros de altura).
Foto: Bernhard Edmaier.
Tecnología y Ciencias del Agua está registrada en los siguientes índices y resúmenes (abstracts) nacionales e internacionales:
• Thomson Reuters Science Citation Index® (ISI)
• Expanded Thomson Reuters Research Alert® (ISI)
• Índice de revistas mexicanas de investigación científica y tecnológica del Consejo Nacional de Ciencia y Tecnología (Conacyt) (2013-2018)
• EBSCO (Fuente Académica Premier NISC; Geosystems, como Marine, Oceanographic and Freshwater Resources)
• ProQuest (Cambridge Scientific Abstracts)
• Elsevier (Fluid Abstracts: Process Engineering; Fluid Abstracts: Civil Engineering)
• CAB Abstracts, CAB International
• Latindex (Sistema Regional de Información en Línea para Revistas Científicas de América Latina, el Caribe, España y Portugal), Universidad Nacional Autónoma de México
• Periódica (Índice de Revistas Latinoamericanas en Ciencias), Universidad Nacional Autónoma de México
• Catálogo Hela (Hemeroteca Latinoamericana), Universidad Nacional Autónoma de México
• Actualidad Iberoamericana, CIT-III, Instituto Iberoamericano de Información en Ciencia y Tecnología
• Sistema de Información Científica Redalyc, Universidad Autónoma del Estado de México

Otras fuentes

También puede encontrarse su acervo en Google académico.
SJR SCImago Journal & Country Rank
ARTICLES IN THE CURRENT ISSUE
Strategies for Dam Safety Risk Management in Mexico
Eduardo Botero-Jaramillo

Alexandra Ossa-López

Raúl Flores-Berrones
Safety protocols for dams worldwide are currently based mainly on: understanding possible failures; quantitative risk assessment; justification of risks taken (with reference to accepted standards and good practices); historical records of dam performance; new criteria and state-of-the art designs; the need to prioritize research; solutions to known problems; better communication of risks to the public, civil organizations and decision- makers; and the improvement of risk management through clearly defining and assigning responsibilities (Bowles, 2013). In addition, these protocols are equally applied to dam owners, regulatory organizations, insurance companies and consulting companies. This article discusses the current framework used to evaluate dam safety at the international level and proposes a specific methodology to evaluate existing dams in Mexico. It also discusses the urgent need to study the possibility of removing dams that present unacceptable risks and for which rehabilitation is not cost-effective.
Keywords: Risk analyses dams, dam removal, dam rehabilitation.
Read more...
Kinetics of Nutrient Uptake and Growth of a Bloom of Microalgae in a High Rate Algae Pond (HRAP) Photobioreactor
Sara Haro

José Antonio Perales
In the present work, a bloom of microalgae was cultured in a pilotscale high rate algae pond (HRAP) photobioreactor with a volume of 450 l. This was performed in batch with synthetic media under natural light and temperature conditions. The objective was to predict the kinetics of biomass growth, nitrogen and phosphorus removal, and the evolution of the biomass content in these nutrients. The results show a reduction in nitrogen and phosphorus contents of over 80% with synthetic wastewater and that the model was useful to predict nutrient uptake by microalgae which, along with experimental data related to nutrient contents of biomass, indicates the existence of other processes that compete with microalgae in the removal of nutrients in a photobioreactor.
Keywords: High rate algae pond, microalgae, nitrogen, phosphorus.
Read more...
General Formulas for Chezy and Manning Coefficients
This article proposes general formulas to evaluate the Chezy and Manning coefficients, CCH and nM; namely, their application to the three possible categories of uniform turbulent flow, where roughness is uniformly distributed and corresponds to the composition of the conduction material. This is different than current formulas that determine CCH and nM only according to relative roughness, ignoring the influence of the Reynolds number, and are therefore conceptually valid only and solely for fully turbulent flow, which corresponds to the zone of complete turbulence or quadratic resistance. The present study uses the flow resistance coefficient which is the basis for hydraulic resistance coefficients (CCH, nM, FD-W), as well as the combined Nikuradse and Prandtl-Von Karman formulas for fully turbulent and smooth turbulent flow and the explicit equation validated by Swamee to calculate the DarcyWeisbach coefficient. This provides more valid and precise results from the Chezy and Manning coefficients, and therefore better represents actual conditions. It should be noted that turbulent flow is classified by three categories— fully turbulent, transient and smooth— according to the relation between the Reynolds number and relative roughness.
Keywords: Flow resistance, Chezy and Manning coefficients.
Read more...
<<

Start

<

Prev

1

2 3 Next > End >>


Page 1 of 3